What Services and Collections Does the Library Have?
Book collection*
65,000 volumes; includes:
children's, adult, and young adult  books
large genealogy collection
over 4900 large print books
*Figures given include all books available to the public within the library, whether owned by Iola Public Library or the Southeast Kansas Library System
Other materials:
DVDs
Audio books (CDs, Playaways)
Digital materials are available through Hoopla digital and Digital Book eLending  (see below)
Compact discs (mostly music)
over 60 magazine and newspaper subscriptions
Microfilm (mostly newspapers and census)
And more: kits, vertical file, etc.
Digital materials
Hoopla digital: Instantly borrow audiobooks, comic books, movies, ebooks, music, and more, 24/7 on your library card.  Enjoy digital materials on your computer, tablet, phone, or smart TV. Hoopla has about 650,000 titles, including movies, music, audiobooks, ebooks, comics and TV shows. The service is available 24/7 and there are no limits on simultaneous users, so there are never waiting lists to use the materials. This service is partially funded by the Southeast Kansas Library System.
The library participates in Digital Book eLending, through which ebooks and downloadable audio can be borrowed. To search this catalog and check out books, go to  https://www.kslib.info/digitalbooks.html.  A Kansas Library Card is required and may be obtained at the library.
The library joined the Sunflower eLibrary in May 2023 with support from the M. Lee Brown Family and Friends of the Library. This statewide consortium provides access to ebooks and digital audiobooks for all ages and supports Amazon Kindle users. Learn more and find help at Services > Sunflower eLibrary
Genealogy and Local History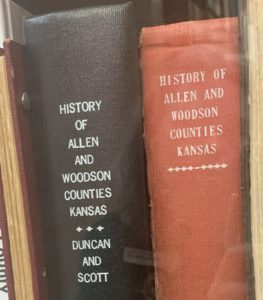 The library is widely known for its extensive genealogy collection.  The Raymond L. Willson genealogy collection contains 4,700 books and 2,600 reels of microfilm.  You can ask for help at the library's front desk.
To support local history, the collection includes maps, Polk directories, and Roger Carswell provided access to this index of the Allen county portion of History of Allen and Woodson Counties Kansas by Duncan and Scott.
Databases/Kansas Library Card
Access to a variety of databases is provided by statewide subscription from the State Library of Kansas.  These include Heritage Quest (genealogy), a newspaper index, and business, nursing, health, and more databases.
Kansas Library Cards are available in the library for access to downloadable ebooks and audio books, as well as any databases for which you may need the card.
Holds (including automatic holds)
You can reserve books at the library, by telephone, or by using your account on our SEKnFind catalog.  We even have an automatic reserve service, where we'll always notify you when the latest book by your favorite author is available.  Just fill out an automatic hold form.
Internet access/computers/hotspots
High-speed direct connection to the Internet. is available.  Computers may also be used for word processing.
The  library also checks out Internet hotspots, allowing you to access the Internet in your home.  We have both regular hotspots, allowing you to connect your devices to the hotspot via wi-fi, and smart hotspots.  The smart hotspots double as a device you can use, so those who don't have their own computer or other device can still get Internet access.
WIFI is available throughout the building.
Children's services:
Weekly Storytimes for children during much of the year
Special events
Readers' Advisory service
Need a suggestion for what book to read next?  You can get suggestions in several ways.
Use Novelist, one of the statewide databases
Subscribe to a free e-mail newsletter from our LibraryAware service.  25 monthly or bi-monthly newsletters listing suggestions in various genres, subjects, and age levels are available.  Each lists a combination of recent releases and less-recent books.  Click on the "Subscribe to Our Newsletters" button on this web site.
Pick up a handout from our Reader's Advisory Center (the rotating displayer near the new books)
Best of all–ask a librarian!
Home delivery
Books and other materials are delivered to those who are physically unable to come to the library.  Library staff pick out books based on the readers' preferences.  Deliveries are made by volunteers every other week.
Interlibrary loan
If you don't have what you want, we can probably borrow it for you from another library!
Special services
BiFolkal kits for reminiscing programs; especially good for seniors.
Braille/print children's books
Access to Talking Books program for the blind and physically handicapped
Recreation therapy aids
Equipment
Includes data projector (computer, Powerpoint),  overhead projector, opaque projector,  and projection screen. $1.00 per day.
Photocopies
A self-service photocopier is located near the desk.  Black and white copies are 15¢ for letter or legal size copies; 30¢ for 11″ x 17″.  Color photocopies are 25¢.
Prints from the internet
10¢ each
Need a program?
Library staff can provide programs for your club, class, or other group on a number of topics.  See Programs
Catalog
Our catalog is online as part of a consortium of southeast Kansas libraries called SEKnFind.  You can find it at www.seknfind.org
Besides searching the catalog, you can log in to your account and do such things as place holds, renew books, make book comments, check on your reading history, and more.
Book drop
A 24-hour book drop is located on the alley behind the library.
Study room
A private study room is available in a corner of the genealogy room, with a sliding door, table, and chairs. It's perfect for getting a bit away and reading, studying, researching, or working.  You can go in whenever it's not occupied, but it's also possible to reserve the room.
Does the Library have Curbside Service?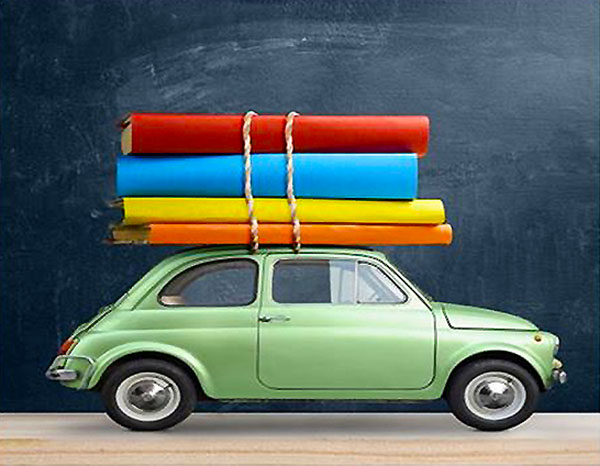 Yes, you may request books:
Pickup times: 11:00am – 1:00pm daily, and 5:00pm – 7:00pm on Mondays
Come to the library parking lot (if returning materials, please leave them in the book drop before coming to the parking lot). Call to let us know that you are coming.
For Fastest Service: Honk horn twice and hold up the number we gave you when you called.
Alternative:  Call us when you arrive, but this will take longer since our telephone is at the other end of the building.
What are the Libraries Policies?
Registration
Free to all residents of Iola and most Kansas residents.  Identification showing current address is required.  A parent or guardian's signature is required for minors.
Loan Periods
2 weeks for most items.  Exceptions are: 1 week: Videos, DVDs, Genealogy books
Renewals
All materials may be renewed once unless someone has reserved the item.  You can renew materials at the library, online by logging into your account, over the telephone, or by email.
Fines, etc.
20 cents per day for most materials. Exceptions are: CD-ROMs, videos, DVDs and equipment,  which are $1.00 per day.
When items are lost or damaged to the extent they are no longer wanted in the collection, replacement cost is charged.
Other Policies
Those whose conduct is disruptive may have the privilege of using the library abridged or denied.
The library does not provide care or supervision of children.  Children under the age of seven may not be left unattended.
The library strives to collect materials to meet the varying needs and tastes of individuals.  The materials selection policy provides a procedure for those objecting to the inclusion of particular items in the collection.
For the all policies, visit our Policies Page using the link in the Footer Menu.
Iola Public​ Library
218 E. Madison
Iola, Kansas 66749
► Hours
Mon - Thur: 9:00 - 8:00
Fri & Sat: 9:00 - 5:00
Fax (620) 365-5137
► Phone