The library will close at 5 pm on Thursday, September 28 for the City of Iola picnic.
What Can We Help You Find?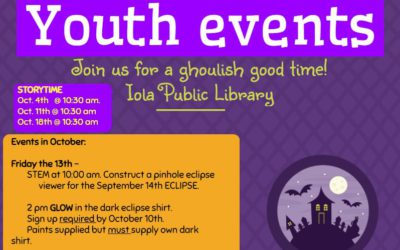 Storytimes: 10:30 am. Oct. 4th Oct. 11th Oct. 18th Friday the 13th: Stem @ 10 am. Construct a pinhole viewer for the September 14th ECLIPSE 2:00 pm paint an Eclipse shirt. Sign-up is required by October, 10th. Paints supplied but must supply own shirt. October...
read more
Iola Public​ Library
218 E. Madison
Iola, Kansas 66749
► Hours
Mon - Thur: 9:00 - 8:00
Fri & Sat: 9:00 - 5:00
Fax (620) 365-5137
► Phone