Welcome to Iola Public Library
What Can We Help You Find?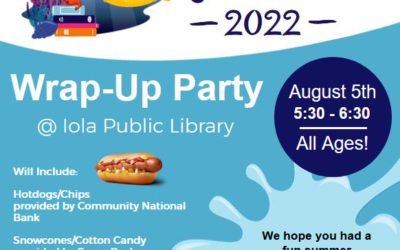 Today from 5:30 to 6:30 on the east lawn of the Iola Public Library. Come and enjoy games, water play, food, sweets and prizes for all your hard work for the Summer Reading Program this year. Great job all! Pick up your BINGO card at the Gazebo. Make your way around...
read more
Iola Public​ Library
218 E. Madison
Iola, Kansas 66749
► Hours
Monday: 9:00 - 8:00
Tue - Wed: 9:00 - 6:00
Thur: 9:00 - 8:00
Fri & Sat: 9:00 - 5:00
► Phone