Iola Public Library is a Family Place Library. We are offering 5 Parent / Child workshop sessions, starting Tuesday, November 1st in our meeting room.
November 15th is our 3rd session.
Our guest professional is Christina Turner from Kansas Children's Service League. The Focus is Child Development.
We would love for you to attend. Please register for this free program for children 1 to 3 and caregivers at 620-365-3262.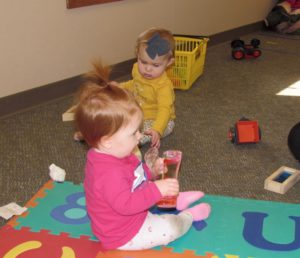 You and your littles are invited to join us each Tuesday evening in November from 6:30 to 7:30 pm in the Library meeting room.
Parents and children ages 12 months to 3 years old may register for this FREE, five-week course.
A 60-minute session each week gives children an opportunity to play with developmentally appropriate toys in a play group atmosphere while parents interact with their children, meet other parents, and talk one-on-one with community professionals.
Each week a different professional focuses on some aspect of development. These sessions emphasize the role of parents as first teachers of their children and provide strategies for healthy development.
Come spend an hour with us each Tuesday evening in November.
Call or come in to register or if you have any questions. Lesa Cole, Youth Services, will send out courtesy reminders each week for the weekly sessions.
Please share this with those that may benefit from this workshop.