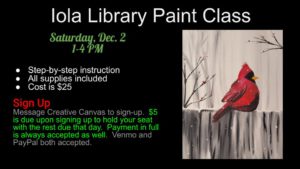 We would love to have you join us at the Iola Public Library to paint this cardinal. Cardinals hold special meanings to so many, so this makes the perfect gift for the holidays or can adorn your home through the winter season.
This location is a nice, safe setting where others join to relax. You don't need to bring anything but yourself and maybe a friend or two! Instruction is provided step-by-step. The canvas size is 16×20.
To sign up, message Creative Canvas. There is a $5 hold your seat fee with the rest due the day of, or you are welcome to pay the full amount upon signing up. The cost is $25 per painter. PayPal and Venmo are available, just specify upon signing up what works best for you and we will get you started. There is a minimum of 16 participants to have this class.
The Friends of the Iola Library is helping support this event with some scholarship money. If interested please contact the library at (620) 365-3262 for more information. Mocktails will be served.