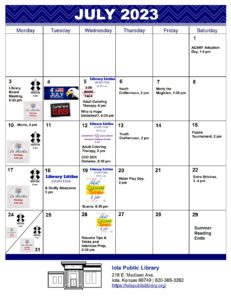 The July Calendar is FULL of interesting and informative events for children, adults, and families. Check out our Social Media for fun pictures, details, and notices for upcoming programs.
The fun starts with an ACARF Adoption Day on Saturday, July 1 from 1-4 pm at the library shelter.
Join us for these special Adult Programs on Wednesdays at 6:30 pm:
July 5 – Who is Hope Unlimited? Learn about this important local resource.
July 12 – Living Well with Diabetes with guest speaker, Rebecca French, from CHC SEK.
July 19 – Scams with guest speaker, Daniel Rodriguez, from Iola Police Department
July 26 – Resume Tips & Tricks and Interview Preparation with guest speaker, John Willey, from KansasWorks
We also have these additional adult programs:
July 11 – at 5:30 pm Diabetes education class: Diabetes Would Care virtually with Dr. Nagle.
Chess Club every Monday at 6 pm with Anna Mitchell.  Open to all ages and playing levels, just drop by!
In stitches every Monday at 6:30 pm with Jennifer Tarter. Not able to come on Mondays? Visit Jennifer on Saturday, July 22 for Extra Stitches from 2-4 pm.
Book Talk on Wednesday, July 5 at 2 pm with Colleen Dobbins. Come talk books with other book lovers.
Alzheimer's Association Caregiver Support Group on Wednesday, July 12 at 2 pm with Melissa Smoot facilitating.
Adult Coloring Therapy every Wednesday at 6 pm. We provide the supplies to help you color away your stress.
Children's Summer Reading! Let's come "All Together Now" and have fun with Miss Lesa and check out books!
Wednesdays (1st, 2nd, and 3rd Wednesday) at 10:30 am – Library Littles Storytime with Miss Lesa (some might be outside)
Thursday, July 6 at 2 pm – Youth Crafternoon
Friday, July 7 at 1:30 pm Join us in the Flewharty/Powell Annex backyard. Bring a blanket or towel to sit on – Marty the Magician
Thursday, July 13 at 2 pm – Youth Crafternoon
Saturday, July 15 at 2 pm – Puzzle Tournament. Form a team. Choose from a stack of puzzles and see who finishes first. 
Monday, July 10 at 3 pm – Movie Matinee
Tuesday, July 18 at 3 pm – Library Littles Storytime and Stuffy Sleepover. Stuffies will "spend the night". Kiddos can pick up their stuffy the next day. Photos of the Stuffy antics will be available upon pick up. See Lesa for any questions. 
Thursday, July 20 at 3 pm – Water Play Day in the Flewharty-Powell Yard
Our Summer Reading Wrap-up party is on August 4th from 4-5 pm. Come celebrate your hard work throughout the summer with us! Food, Fun, Games! Held in the Flewharty/Powell Annex backyard.
It's not too late to sign up for Summer Reading for Adults or Children – just ask at the desk for details.