The newest service at Iola Public Library is circulating Internet hotspots.  The hotspots bring an Internet connection to your home or other location and allow your computers or devices to connect to it via wi-fi.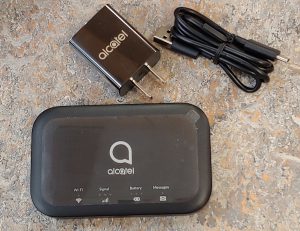 Funding for the hotspots comes from a Broadband Partnership Adoption Grant through the Kansas Department of Commerce using CARES Act, or federal coronavirus relief, funds.
There are five hotspots available to check out. and an additional ten "smart hotspots."  T-Mobile/Sprint is the carrier.
The regular hotspots are suitable for those who have smartphones, computers, tablets or other devices with wi-fi capability.  Those who have no computers or other devices can check out the smart hotspots that are a mobile device with a built-in Internet connection.
Bring the Internet into your home for work, school, or play!  The service provided by the hotspot works best for one or two people.  Have company coming and need to borrow some Internet? The smart hotspots can help out if you have fewer devices than people needing to use them.
The hotspots check out for two weeks to any registered patron in good standing.  They can be renewed multiple times if there isn't a waiting list.  Overdue charges will be $1 per day, and Internet service will be turned off for any devices that are a week overdue.
If you check out a hotspot, please keep it in a temperature-controlled environment. Please don't leave it in a hot or cold car!  And we ask that you don't return the hotspots in the book drop, but instead bring them inside and return them at the circulation desk in the library.