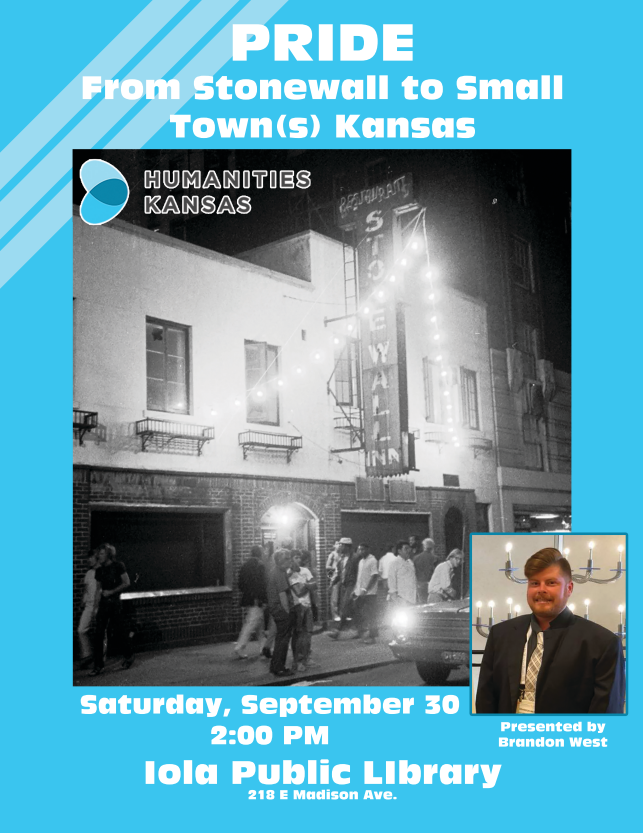 Iola Public Library will host Brandon West for a presentation and discussion of "Pride: From Stonewall to Small Town Kansas," on Saturday, September 30 at 2 pm at the Library (218 E. Madison). Members of the community are invited to attend this free program! The program is made possible by Humanities Kansas.
The social revolution commonly known as Pride has deep connections to Kansas. The events at Stonewall Inn in Greenwich Village in 1969 galvanized a generation to stand up for their civil rights. Kansans contributed to this early history, including the design of the iconic rainbow flag. This historic presentation will trace the early struggles to gain equality in rights for LGBTQ individuals.
Brandon West is the Executive Director of Project Q&A Inc, the leading nonprofit organization working to educate, empower, and raise visibility for the over 2.9 million Lesbian, Gay, Bisexual, Transgender, and Questioning individuals who call rural America home. He is also the Development Coordinator for the Independence Public Library, where he has been employed since 2013. Brandon holds a Master of Library and Information Science from Emporia State University and a Bachelor's in Secondary Education from Kansas State University. In May 2019, he was invited to speak at the historic Stonewall Inn in New York City for the 50th Anniversary of the Stonewall Uprising, and the kick-off for World Pride. Brandon's greatest accomplishment is working with rural communities that aspire to become inclusive and create sustainable change.
"Pride: From Stonewall to Small Town Kansas" is part of Humanities Kansas's Speakers Bureau and "21st Century Civics," a collection of resources that invite Kansans to participate in community discussions and learn more about the history of American democracy and the shared responsibilities of citizenship. "21st Century Civics" is made possible with support from "A More Perfect Union: America at 250," an initiative of the National Endowment for the Humanities.
Support for "Pride: From Stonewall to Small Town Kansas" has been provided by the Freedom's Frontier National Heritage Area.
About Humanities Kansas
Humanities Kansas is an independent nonprofit leading a movement of ideas to empower the people of Kansas to strengthen their communities and our democracy. Since 1972, our pioneering programming, grants, and partnerships have documented and shared stories to spark conversations and generate insights. Together with our partners and supporters, we inspire all Kansans to draw on history, literature, ethics, and culture to enrich their lives and serve the communities and state we all proudly call home. Visit humanitieskansas.org.