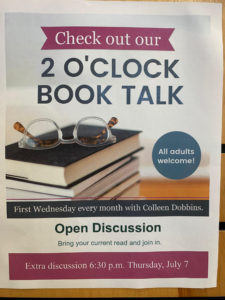 Colleen is hosting two book talks in July, giving you an extra opportunity to join this open discussion of books we're reading.
2 O'clock Book Talk: Wednesday, July 6 at 2:00 pm in the Library Meeting Room
Extra Discussion: Thursday, July 7 at 6:30 pm 
The Library is now open until 8 pm on Mondays and Thursdays and we open every morning at 9:00 am (closed Sundays).
Have you browsed all of the fliers featuring book suggestions and recommendations, like the new one featuring Staff Picks?
It's located next to the Catalog computer.