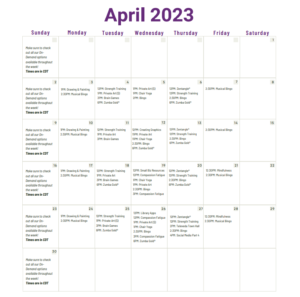 Happy April! Televeda is very excited to introduce their newest class making a comeback this Wednesday: Creative Writing! Hosted by Dr. Janis Collins, use this time to express yourself and explore the deepest parts of your creativity, guided by an instructor that will help bring you out of your writing comfort zone!
Televeda has plenty of other new classes we highly recommend you try out this week — take a look at their schedule below.
Please remember you can view all upcoming class dates and times at live.televeda.com/class-schedule.